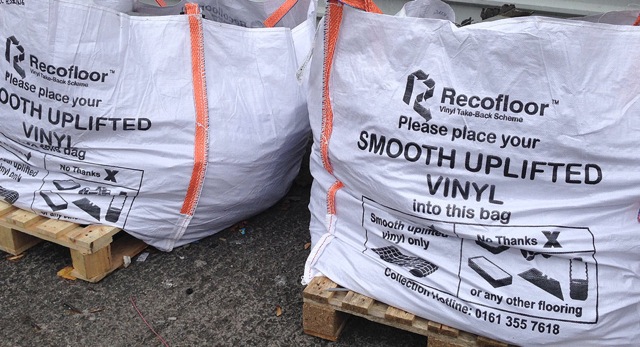 Bumper Year for Recycling - HFC registered to both Recofloor and Forbo's recycling schemes
Hillingdon Flooring Company are registered to both Recofloor 'vinyl take back' and Forbo's 'Back to the floor' recycling schemes and are diverting an increasing quantity of post installation vinyl waste away from landfill.

Cushionfloor, smooth and safety flooring off-cuts including roll ends are placed in jumbo bags for collection by Recofloor and Forbo for recycling back into new flooring products.

As a Participant in the scheme we benefit from enhanced green credentials for the business and up to 75% savings in disposal costs. Hillingdon Flooring has returned more than 8.000 kilos of vinyl flooring during the current period making it our best year yet for recycling since the scheme's 2009 inception.